Congratulations Carnation Festival Royalty 2018!
By Cyndy Beal
Have you heard there are real royals living and working in Wheat Ridge?
Every year the Wheat Ridge Carnation Festival chooses a royal court, which honors those in the community who have made a positive contribution through their active participation or service in the city. Nominees for the court are made by the community. The three members chosen for the court may be individuals or an organization that embody the best of the community and have earned recognition and the royal treatment.
Courtly duties include such responsibilities as public appearances (riding in the parade on Saturday morning and festival award presentations Saturday evening) and moving about the festival looking royal while wearing a sash.
The 2018 winners are as follows:
Grand Marshal - SCL Lutheran Medical Center/Lutheran Medical Center Foundation
Countess - Amanda Weaver
Count - Griff Wirth
Grand Marshal – SCL Lutheran Medical Center/Lutheran Medical Center Foundation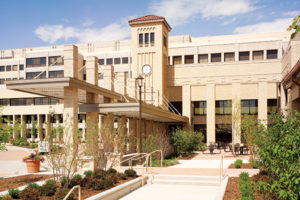 Lutheran Medical Center (LMC) has been an integral part of the community for more than 100 years. The hospital has received numerous awards for excellence in healthcare, including being named as one of America's top 100 hospitals (2014-2017) and made the list of America's best 50 hospitals in 2018, rated by Healthgrades.
In 1905 at the LMC site, the Evangelical Lutheran Sanitarium was founded by the members of St. John's Lutheran Church of Denver. The original facility on the 20-acre property had two buildings and a tent colony to treat tuberculous patients.
"As medical advances diminished the demand for tuberculosis treatment, community leaders decided the center should meet a new need. Lutheran Hospital, a not-for-profit general medical facility located on a 100-acre campus, opened its doors in 1961," according to the LMC website.
Presently, the hospital serves the community with inpatient and outpatient care and their many healthcare services for all ages. In 2017, the LMC recorded its aid and attendance at 2,295 births.
LMC is Wheat Ridge's largest employer with 4,000 employees.  The ability for the hospital to continue to operate and grow comes from its own community of doctors, nurses, staff, volunteers--and the work of the LMC Foundation's fund-raising activities. In 2017, the foundation helped create more than a million-dollars-worth of healthcare support for LMC facilities and its various programs.
Lutheran Medical Center Foundation is the 501(c)(3) public nonprofit organization that obtains support for the not-for-profit hospital and its associated services.
"We are absolutely honored that Wheat Ridge has chosen us, "said Kathie Repola, executive director the LMC Foundation. "We are very thankful for how Wheat Ridge supports us. "
Countess – Amanda Weaver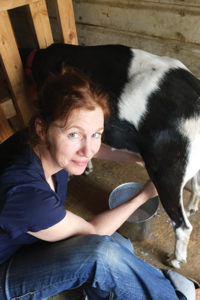 Dr. Amanda Weaver owns Five Fridges Farm in Wheat Ridge, a 13-acre organic urban farm that provides products, education and tours related primarily to small-scale food production.
The land has had a voluntary conservation easement since the early 1990s. Although Weaver owns the land it must remain a farm and is protected legally as open space through the non-profit Colorado Open Lands.
Long before moving to Colorado in 2002 and acquiring the farm in 2011, Weaver spent her childhood summers in Colorado with her maternal grandparents. Her grandfather was a Forrest Service scientist. Her interests in land, food, people and the vital connections between them began in those early years.
The farm was originally owned by Earnestine and Walt Williams from the 1930ss to the mid 1990s. It was then owned by one of Wheat Ridge's founders, Louise Turner. Weaver apprenticed under Turner in 2010.
The connections to farm maintenance stems from its relationship with its volunteers, apprentices, coop members, visitors, seasonal growers leasing the land, and others with ties to the property.  As a further commitment to sustainability and educating new farmers, Five Fridges Farm now offers an urban farming apprenticeship program in February through November.
Weaver holds a PhD and teaches geography and urban farming at the University of Colorado at Denver. The farm often serves as her classroom and research laboratory. She is the District III representative on the Wheat Ridge Planning Commission and a Board Member for Colorado Open Lands.
"I love Wheat Ridge," said Weaver. "I'm really honored. I've never won anything like this in my life."
For further information about Five Fridges Farm go to 5fridgesfarm.com
Count – Griff Wirth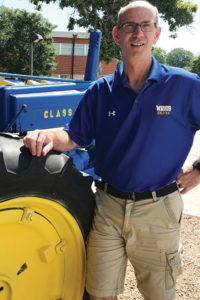 Griff Wirth, past principal of Wheat Ridge High School (WRHS) from 2007 to 2017. He has been a principal at Bell and Drake Middle Schools--and has been part of the Jefferson County School System for 23 years.
In his retirement, he is an educational consultant and has helped start Career Explorer programs, in eight Jefferson County schools which he helped originate first at WRHS.
Education has been and remains a central component from his early years and lasting through the present. Wirth graduated from WRHS in 1981. While in high school he received the Gold Helmet as Colorado's outstanding scholar/football player/community service student, joining notable Freddie Steinmark recipient.
Wirth's family moved to Colorado when he was six years old. They relocated to the Applewood area for his father's new job as an engineer with Coors Ceramic in Golden. He and his wife, Cindy, bought and now live in the house he grew up in. Their three children all graduated from WRHS.
After graduating from WRHS, he went to college at Colorado University in Boulder, where he majored in math and education. He later obtained his master's in administration from Colorado University at Denver.
His first job as an educator was as a math teacher and coach in the Widefield School District in Colorado Springs.
Some of his personal points of pride as principal of WRHS are his involvement in creating innovative programs, such as the Career Explorer, STEM and Jeffco GT Center-and leading a staff focused on positive traits in character development.
"It's really nice that the people have recognized me," said Wirth. "Wheat Ridge is a welcoming and friendly community. Thank you, everyone."
Plate Design Competition Winners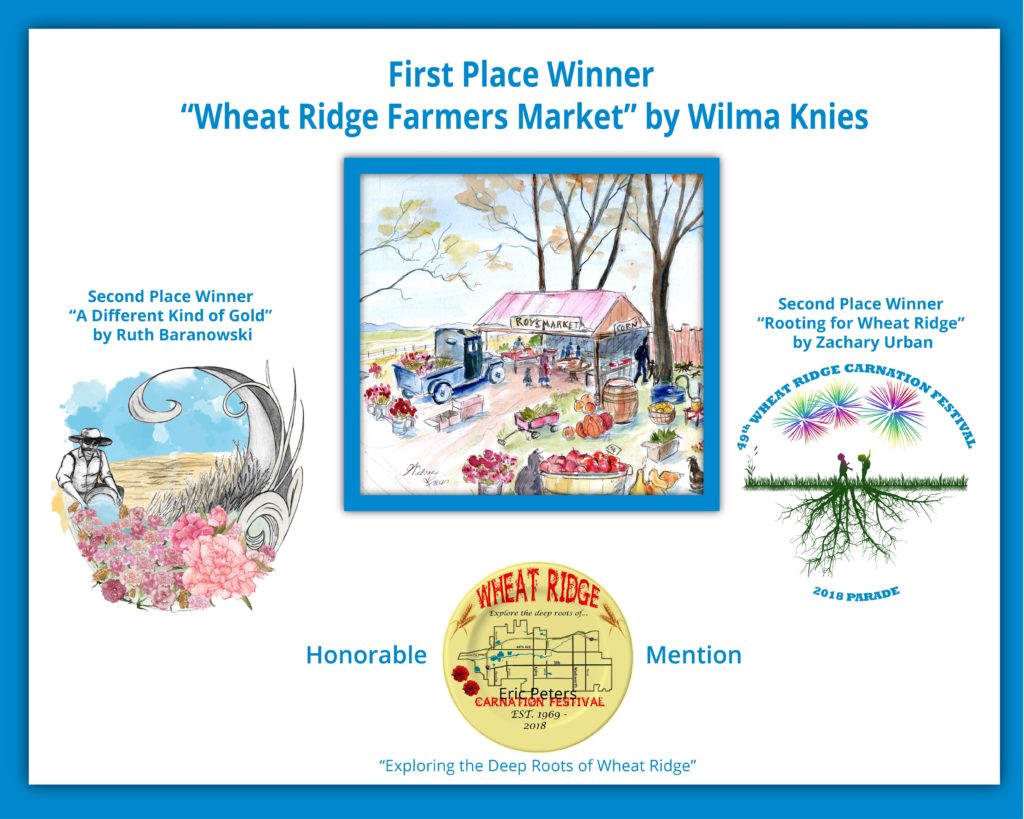 Carnation Parade Plate Design Contest
Annual Carnation Parade Plate Design Contest is here again!
The Carnation Festival was created when Wheat Ridge was founded in 1969 to celebrate the incorporation of the City and to honor the Cities history. During the 1960s, the city boasted 32 different carnation growers and sent a bouquet to the White House every Monday morning, which was displayed in the front foyer with a card stating: "With compliments to our nation's capital, Wheat Ridge, Colorado, Carnation City.
Every year at the Wheat Ridge Carnation Parade the winners are awarded a commemorative plate. The plate is decorated with a unique design from a local artist; this has been one of the traditions for the last forty-nine years. This year the Parade theme is "Deep Roots." While Wheat Ridge may have only incorporated in '69; our community has been around for a long time. As a stopover for '59ers in a rush to find gold and then as farmland for those who found a different type of gold in farming; Wheat Ridge has a long and unique history. The Parade committee encourages you to stretch your imagination and create an image that speaks to the deep roots we all have in our friends, neighbors, community and city.
This year the Parade Committee is calling all local artists to submit an original design that embodies the deep roots and history of the City of Wheat Ridge.
Theme:  "Deep Roots"
First Prize will have their art displayed on the 48th Carnation Parade first place award plates, plus $100 cash prize, the artwork showcased on Festival publications.
Second Prize is $50 and the artwork showcased on Festival publications.
Third Prize is $25 and the artwork showcased on Festival publications.
Honorable Mentions will be showcased on Festival publications.
Judging Criteria:
- Careful thought to composition and presentation linked to the theme
- Exhibit obvious mastery of medium/technique
- Has a full range of values, light and darks
- Does it reflect drama or an emotional connection that provides a narrative
- Shows an effort to stretch beyond simply copying a subject and then reflects creativity and innovation
Carnation Festival Parade Plate Design Contest
- Deadline is June 15, 2018.
- Artwork must relate to the theme "Deep Roots"
- Must be family-friendly
- Format for submission: jpg, tif, pdf, psd, AL and EPS @ 300dpi scale
- Designs must take into consideration the fact that the design will be placed on a round plate, special consideration will be given to designs that incorporate this
Wilma Knies "Wheat Ridge Farmers Market"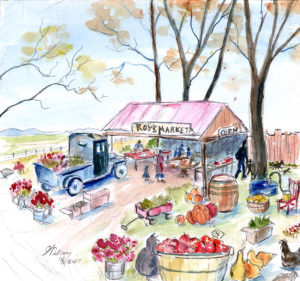 Second Place - Ruth Baranowski "A Different Kind of Gold"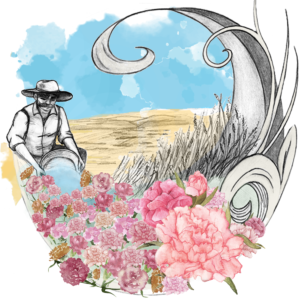 Second Place - Zachary Urban "Rooting for Wheat Ridge!"
Honorable Mention - Eric Peters "Explore the Deep Roots of Wheat Ridge"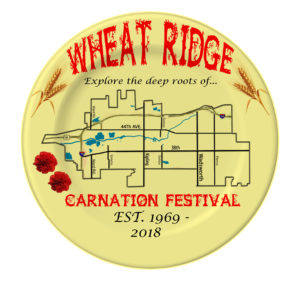 Parade Information
View/download parade information including judging criteria (pdf) >>
The Wheat Ridge Carnation Parade will roll west along 38th Ave from Ames Street to Upham Street on Saturday, August 11th beginning at 9:30am MST.  Established in 1969, the Parade is among one of the longest standing traditions held to celebrate the incorporation of our beloved Wheat Ridge. The Parade features local schools, businesses, and nonprofit organizations that always show up to have fun and impress the crowd!  Join us for a celebration of our "Deep Roots"!
This year's Parade theme is celebrating the deep connections in our community, from the thriving urban agriculture, to the history and the communities that make up Wheat Ridge.  The theme encourages participants to really stretch their imagination to creatively use carnations in their entries!
Prior to the Parade, the Wheat Ridge Grange (3850 High Court) will offer a Pancake Breakfast beginning at 7am MST.  Join us for a delicious breakfast and find a seat to enjoy our community parade!
Parade entry application opens on April 15.
Parade Route
The 49th Annual Wheat Ridge Carnation Parade has reached capacity and is no longer able to accept entries. Please join us next year and we hope to see you down at the Festival and Parade to enjoy the fun!