Circus Tickets will be available soon
Please check back at later date – When the tickets go on sale, you can purchase them from this page.
New for 2022! – Children's Circus Camp (Click for more information)
---
Enjoy thrills under the Zoppé Family Circus Big-Top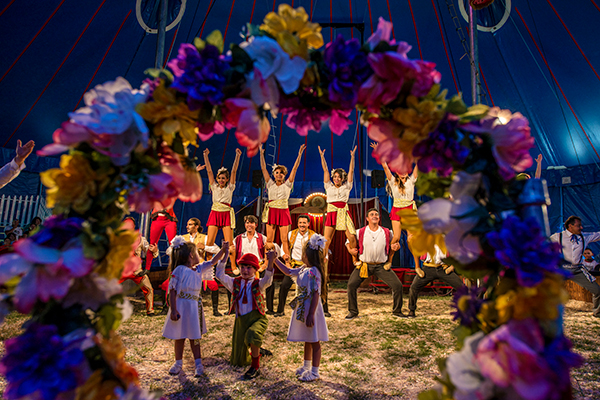 Ladies and gentlemen and kids of all ages, the circus is coming to town! Those words are rarely heard since Ringling Brothers and other touring circuses folded their tents. Fortunately for Colorado circus-lovers, in August the Zoppé Family Circus will perform during the annual Carnation Festival under their Big Top Veneto. (Veneto is what this sixth generation of the Zoppé Circus Family christened their big-top tent, in honor of the Italian town from which the family hails.)
The Carnation Festival will be presented in Anderson Park, 44th & Field, with Zoppé Circus performances Friday, Aug. 12, at 4 and 7 p.m.; Saturday, Aug. 13, at 1, 4 and 7 p.m.; and Sunday, Aug. 14, at 1 and 4 p.m. On Saturday the circus will be preceded by a parade along 38th Ave. from Ames Street to Upham Street beginning at 9:30 a.m.
A favorite among Carnation Festival-goers, Zoppé Circus is celebrating the 177th year its family-run extravaganza. There are 10 blood relatives of the Zoppé family among the 54 individuals who make up the company coming to Wheat Ridge.
"We are the classic circus in America today," said Giovanni Zoppé, who runs the thrilling show. "We're a complete circus, but we are what a circus was in the 1800s. That includes the costumes, music, and style of show. Everything we do takes you back to the 1800s."
Zoppé likens the circus to Christmas. Just as Christmas comes every year, with different presents under the tree, the Zoppé Circus also comes every year and brings different acts. Zoppé says this will be the freshest show they've performed in the past 10 years.
Among the new acts is a bareback-riding performance by Zoppé's sister Tosca, who has been an amazing bareback rider since she was young. She will re-create their father's classic bareback riding act. Another new act features four-to-five horses abreast, with a human pyramid of six-to-eight people atop them.
The circus will also introduce an act this year that features a bicyclist riding around a large bowl-shaped apparatus. The equipment is 15 feet at the top and 10 feet at the bottom. As the bicyclist rides, the bowl goes up about 35 feet and continues to move. The "bowl" has a large hole in the middle of the bottom. Zoppé explains that this riveting act, which is 120 years old, has not been performed in at least 65 years. He felt it was time to introduce the act to modern-day circus-goers.