Carnation Festival is a celebration of our community since the city's incorporation in 1969. Once named the "Carnation Capitol of the World", Wheat Ridge embraces its heritage through this spectacular event. Celebrating it's 48th annual in 2017, Wheat Ridge Carnation Festival will be filled with food, music, culture and fun for people of all ages!
2017 Royalties
Nominations for 2017 Royalties will be accepted soon. The information and selection criteria will be posted in this section when available and when selected, the announcement will be made here. Please stay tuned.
Festival Location
Carnation Festival main events are held at Anderson Park, located at 4355 Field Street, Wheat Ridge, CO 80033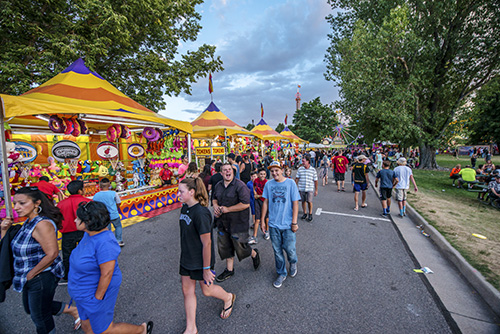 Parade Route
Parade takes place on the 38th Avenue between Sheridan and Wadsworth on Saturday morning from 9am to noon. The parade showcases various aspects of the community with entries including community groups and local organizations, such as service groups, community building organizations, boy/girl scouts, local businesses, churches, special interest groups and more. The Festival announces its Count, Countess, and Grand Marshal each year from community members who had significant impact to Wheat Ridge. These dignitaries lead the parade then preside to select the winner in each category.
Each year, people crowd over to the 38th Avenue to excitedly await for the parade at their favorite spot. This year is no exception. We are looking forward to seeing your bright smiley face there, too!