Bigger and Better: Carnival and Fireworks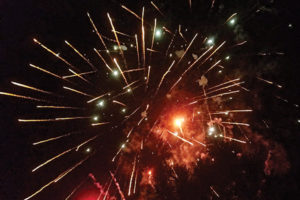 The fireworks show at this year's 49th Carnation Festival will be bigger and better. Both Friday and Saturday nights at 9:15 p.m., two graduates of Wheat Ridge High School will orchestrate an amazing fireworks show. Two days before the festival, Steve Shriber and Jeff Hendricks of Firestorm Pyrotechnics will bring the fireworks over Loveland Pass, because a semi-truck full of fireworks can't go through the tunnel.
When Shriber was growing up in Wheat Ridge, he loved every fireworks show. Eventually, he began saving his money and driving to Wyoming to buy fireworks – a lot of fireworks. He then returned to Wheat Ridge and sold fireworks to his friends. After years in school and in the aerospace industry, Shriber and Hendricks began Firestorm Pyrotechnics in Springville, Utah. Firestorm Pyrotechnics produces choreographed shows combining music and fireworks.  The timing and matching of music and multifaceted fireworks displays are what draws the ooohs and aaahs at every show.
There will certainly be food, fireworks, and fun that all can enjoy at the 49th Carnation Festival!