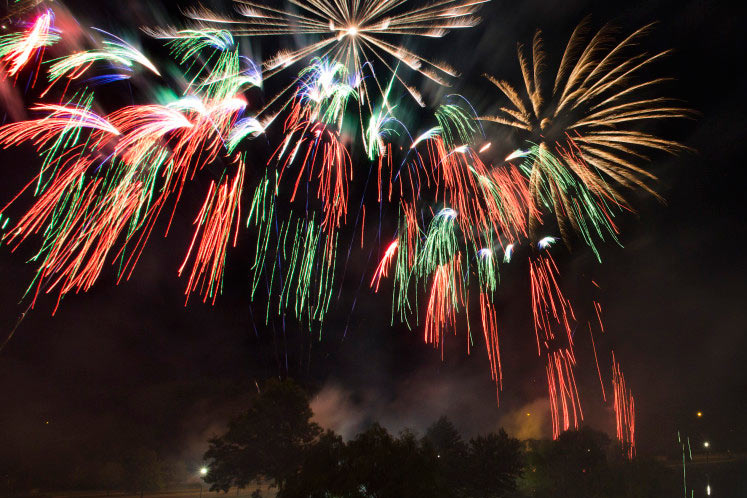 Don't miss the bigger and better fireworks on Friday & Saturday night at 9:15pm!
Bigger and Better: Carnival and Fireworks
This year's Carnation Festival carnival, spreading across the south side of Anderson Park, will have more of our favorite carnival games and carnival rides than ever. Of course, there will be endless concessions with funnel cakes, corn dogs, cotton candy and other favorite carnival foods.
"What's not to love about a carnival?" commented Leah Dozeman, Secretary and Parade Chair of the Carnation Festival. "They have rides that are just right for kids of all ages, for teens, and for thrill-seeking adults, too. My son really enjoyed the fun houses last year."
Young guests will enjoy the inflatables. There will be bubble balls this year, too. Bubble balls are giant inflatable balls that fun-lovers climb inside of and use to walk on water. A Euro Bungee will be available for guests to try, also.
Carnival rides vary from $1 to $5, but an unlimited daily pass is available for $20. Parents always enjoy watching children rush onto a ride and climb off laughing. If the next words they hear are, "Can we go again? Please, please?" purchasing a wristband allowing a day of endless rides may be a great choice.
The fireworks show at this year's 48th Carnation Festival will be bigger and better, also. Both Friday and Saturday nights at 9:15 p.m., two graduates of Wheat Ridge High School will orchestrate an amazing fireworks show. Two days before the festival, Steve Shriber and Jeff Hendricks of Firestorm Pyrotechnics will bring the fireworks over Loveland Pass, because a semi-truck full of fireworks can't go through the tunnel.
When Shriber was growing up in Wheat Ridge, he loved every firework show. Eventually, he began saving his money and driving to Wyoming to buy fireworks – a lot of fireworks. He then returned to Wheat Ridge and sold fireworks to his friends. After years in school and in the aerospace industry, Shriber and Hendricks began Firestorm Pyrotechnics in Springville, Utah. Firestorm Pyrotechnics produces choreographed shows combining music and fireworks. Hendricks designed the computer system to create the complex coordination of each show. The timing and matching of music and multifaceted fireworks displays are what draws the ooohs and aaahs at every show.
Once the 100 shows for Firestorm Pyrotechnics on the Fourth of July and the Carnation Festival are over, Shriber and Hendricks still cannot sit back and relax. There are still many, many events with fireworks scheduled for Firestorm throughout the year. Each show requires building the music and fireworks choreography for that show. Shriber continues to build on the computer programming for choreography. Hendricks has a yearly buying trip to China, because he still loves fireworks!
There will certainly be food, fireworks, and fun that we can all enjoy at the 48th Carnation Festival! –Nancy Hahn
The Carnival is staged on the south side of Anderson Park during the Carnation Festival: Friday, Aug. 11, 4-11 p.m.; and Saturday, Aug. 12, noon-11 p.m. Purchase rides for $1-$5, or get a daily pass for $20.
Firework shows start 9:15 p.m. on Friday, Aug. 11, and Saturday, Aug. 12. Free.