Car Show Comes Roaring Back, August 11, 9am-3pm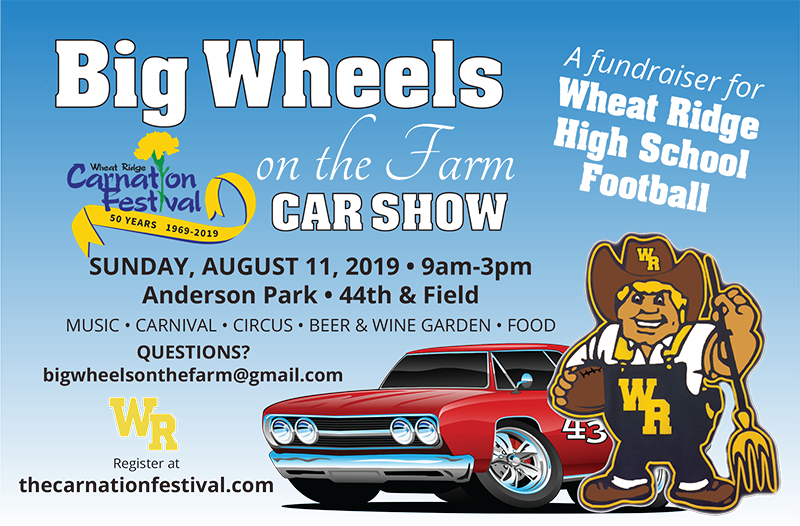 Classic car owners and enthusiasts are tuning up for the 2019 Wheat Ridge Carnation Festival because this year the Wheat Ridge High School Farmers Football program and the WR Quarterback Club are partnering with the Carnation Festival for the second time to present the "Big Wheels on the Farm" car show fundraiser.
The beautiful vehicles will roll in (loudly) on Sunday, August 11th, 9 a.m. to 3 p.m. at Anderson Park (44th and Field St.). The display will showcase decades worth of American muscle, hotrods, exotics, classics and vintage vehicles--all parked in the grassy area in the heart of festivities, surrounded by food trucks, vendors, the main stage and more. It's a perfect combination for a day of family fun, while helping raise money for the high school football team. (Registration fees support the program.)
There will be plenty to gawk over during contests among the different car classifications. To maintain the festival's community spirit, the judging will be done by Wheat Ridge Community Service members. Custom-made trophies will be awarded in multiple categories including one for each car class, and a Best of Show award.
Whatever the classic/vintage car type, this show is sure to have a category for it. This year's categories are*:
Pre-war (1940 and older) hot rod

Post-war (1941 – 1972) hot rod

Contemporary (1972-Present)

Stock Original

Lowrider

Motorcycle
     Do you have a specialty car that you would like to show off at the expanded car show this year? Entries are open. Please complete the form BELOW to submit. After registering and paying, the Big Wheels on the Farm committee will contact you with more details. The $30 registration fee is non-refundable. The first 50 cars pre-registered will receive a dash placard and guaranteed grass area parking.
Wheat Ridge High School Football prides itself in giving back to the community and looks forward to the community enjoying extraordinary cars at the Big Wheels on the Farm car show.
* Subject to change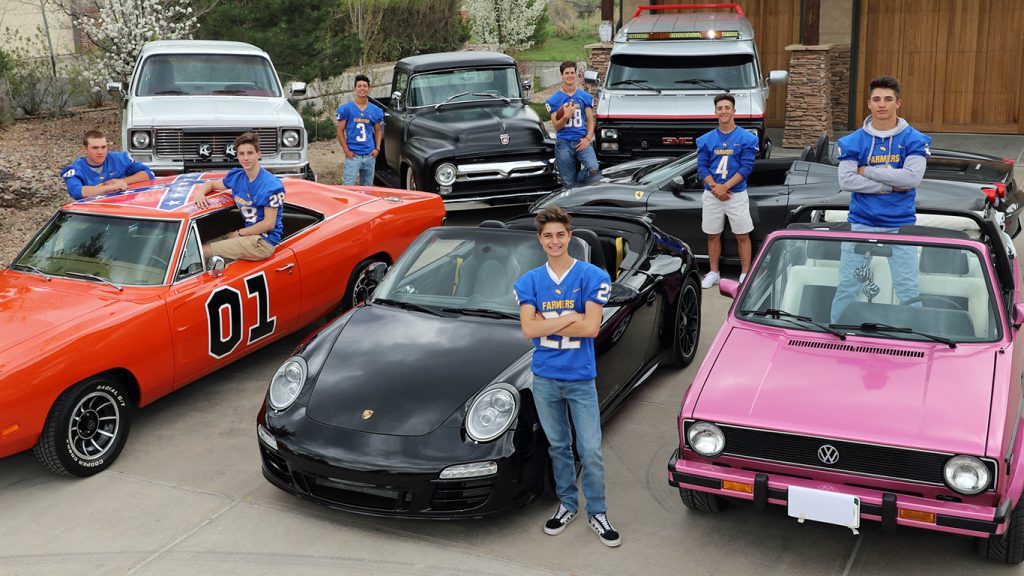 Entry for 2019 show is now open! Online registrations will be accepted until Saturday, August 10 @ noon. After that, onsite registrations only. Please enter using the form below.
Car Show Entry Form
Online Car Show Entry is now closed. We are taking registrations onsite Sunday morning.