Car Show Comes Roaring Back, August 13, 9am-3pm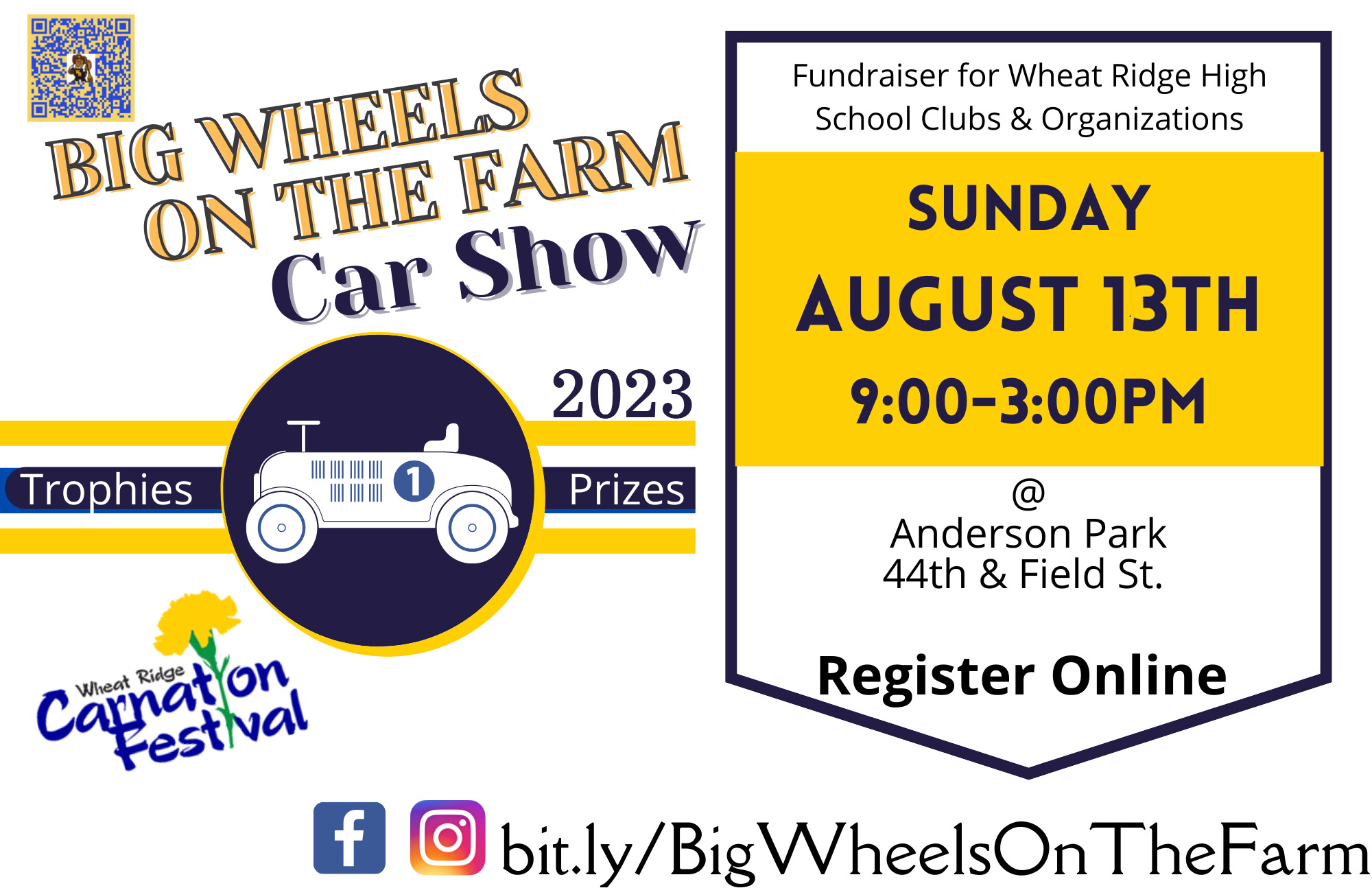 Classic car owners and enthusiasts are tuning up for the 2023 Wheat Ridge Carnation Festival and
"Big Wheels on the Farm" car show fundraiser.
The car show benefits Wheat Ridge High School Clubs and Sports.
Sunday, August 13th 
9:00 am to 3:00 pm 
Anderson Park (44th and Field St.)
The display will showcase decades worth of American muscle, hotrod, exotic, classic and vintage vehicles--all parked in the heart of the Carnation Festival. You will be surrounded by food trucks, vendors, the main stage and more. It's a perfect combination for a day of family fun, while helping raise money for the high school programs. 
Check out all the cars, trucks, and motorcycles while visiting with other like-minded enthusiasts. Custom-made trophies, hand crafted by Warren Tech students will be awarded. To maintain the festival's community spirit, the judging will be done by Wheat Ridge Community Service members. 
Entries are open. Please complete the form to the right to submit. The registration fee is non-refundable. Please follow us on Facebook/ Instagram at Big Wheels on the Farm.
Wheat Ridge High School prides itself in giving back to the community and looks forward to the community enjoying extraordinary cars at the Big Wheels on the Farm car show.
Early Bird Registration $25 Ends June 30.
Online registrations end at 5pm on Fri, August 11.
Enter your car from the form below
Early Bird Registration ended.
Online Registration is closed.
ONE-DAY CAR SHOW ONLY VENDOR APPLICATION
One-Day Car Show Vendor Registration is CLOSED.