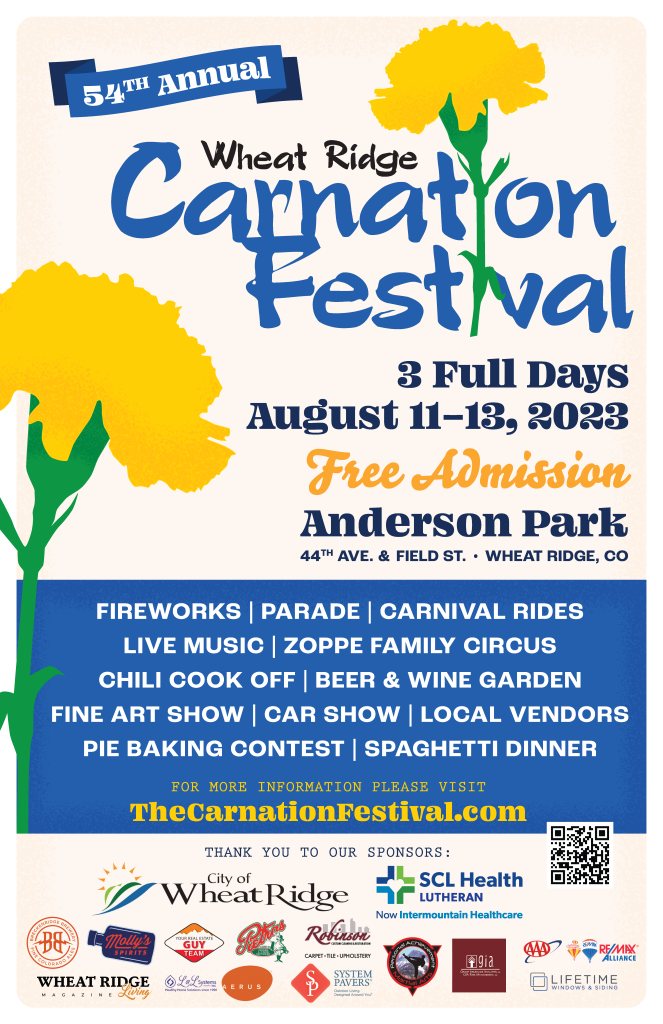 The Wheat Ridge Carnation Festival 2023 Brings Three Days of Entertainment
Come out and celebrate Wheat Ridge with a good ol' fashion community festival right on the edge of the big city, at the Wheat Ridge Carnation Festival. This free community event August 11-13 offers something for everybody and every family at Anderson Park (44th Ave & Field Street).
Celebrating its 54th year, The Carnation Festival continues to be one of Colorado's longest-running festivals. The festival's name is based on the tradition of honoring the post-World War II period when Wheat Ridge was known as "Carnation City" with a thriving carnation flower industry. (The last carnation grower in Wheat Ridge phased out their operation in 2008.)
The festival supports the local community and its many local nonprofits, service clubs, and student and senior organizations. It's a registered nonprofit managed by a Wheat Ridge volunteer board. All monies from the festival go to local entities or back into the festival.
What To Expect at the Festival
Zoppé Family Circus – Good ol' fashioned entertainment under the big top from a family of circus performers. A community favorite!
The Grand Parade – Rolling west along 38th Ave from Ames Street to Upham Street on Saturday, August 12th at 9:30 a.m. MST, the parade honors local service groups and brings select distinguished residents named Grand Marshal, Count and Countess to serve as royalty.
Live Music – Rock out to tribute bands playing hits from the likes of No Doubt to Bad Company on Saturday, then to original bands playing everything from West Coast Swing to blues on Sunday. Admission is free!
Good Eats – From a pancake breakfast on Saturday morning before the parade to a spaghetti dinner both festival nights, plus treats from the Colorado Honey Festival, the beer garden,  and the return of the chili cook-off and pie baking contest.
Classic Car Show – Get an eyeful of American muscle, hotrod, exotic, classic and vintage vehicles and see who wins the prize for best in show.
Fine Art Show – A juried art show featuring 31 Wheat Ridge Art League members.
Fireworks – Lighting up the night both nights at 9:15 p.m. at the baseball field.
Colorado Honey Festival –  This annual event that is produced by All Seasons Holiday Market provides fun bee-related goods as well as educational opportunities to raise bee awareness and support for the Bee Cause Project.
And more! For a full schedule of events or to sign up to volunteer at or sponsor the event, visit TheCarnationFestival.com.
About The Carnation Festival, Inc
The Carnation Festival, Inc is a volunteer-led, 501c3 nonprofit with the sole purpose of producing the annual Wheat Ridge Carnation Festival for the benefit of the community and numerous nonprofit groups in Wheat Ridge, Colorado. www.TheCarnationFestival.com